Vivaz Blog
Dancer Spotlight, Michela Minozzi - Bachata Dancer and Performer
Apr 05, 2023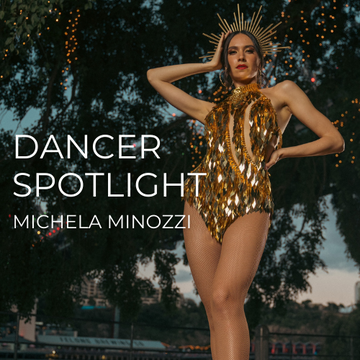 INTRODUCING MICHELA
When it comes to bachata dancing in Brisbane, Michela Minozzi is a name that is synonymous with passion, grace, and pure joy on the dance floor. For the past five years, Michela has been dedicated to mastering the art of bachata dancing, and her hard work has paid off. She has become one of the leading bachata dancers in Brisbane, inspiring others with her talent and infectious love for the dance.
Pictured: Michela wears Miranda Dance Heels
WHAT IS BACHATA?
Bachata is a dance style that has been gaining popularity all over the world in recent years. With its sensual moves and catchy beats, it's no surprise that so many dancers are falling in love with this Latin dance style. Bachata originated in the Dominican Republic and has since spread globally, with dancers incorporating their own unique styles into the dance.
REAL TALK WITH MICHELA
1. How long have you been dancing and what's your dance style of choice?
Ciao!! My name is Mica and I am a hard core bachatera! I started dancing bachata 5 years ago, and since then my life has changed for the better
2. How long have you worn Vivaz and what's your favourite style?
I bought my very first pair of Vivaz heels back in 2019! I fell in love with them straight away and didn't want to take them off anymore.
If I had to pick my favourite style, I would pick Louella because of its incredible bright colour and its softness. However, in reality, I always end up packing way more than 1 pair because I cannot choose.
3. What's the importance of dance shoes to you and what are your must-have features in a dance shoe?
As a dancer, I believe that a good pair of shoes can make all the difference! When it comes to choosing the perfect shoe, I look for something that makes me feel comfortable, supported, and freaking hot.
A snug and tight fit is essential for me to prevent me from losing balance. The second must for me is… Diamonds, because we all need to shine a little brighter
4. Advice for upcoming dancers?
If you are in love with dancing as much as I am, I would love to share some advice with you to help you grow! Keep working and training hard, or I should say, HARDER! Classes are essential, but what's even more important is that you invest time by yourself to apply and refine what you have learnt.
You just need yourself, a mirror, and your favourite music! No one is going to do the work for you if you don't do it yourself. Also, one more thing, as hard as this is, don't compare yourself to anyone else out there. Instead of comparing, let the work of others inspire you. We are all on our own journey, it will never be perfect, but we will work with it! 
In conclusion, bachata dancing has captured the hearts of dancers all over the world, and Brisbane is no exception. Michela Minozzi's passion for bachata has not only made her a leading figure in the Brisbane dance community but has also inspired others to embrace this beautiful dance style. Bachata's origins may have been humble, but its rise to global popularity is a testament to the power of dance to bring people together and transcend cultural boundaries.
As Michela would say, with hard work and dedication, anyone can learn to dance bachata, and the joy and fulfillment it brings are truly priceless. So why not give it a try? Who knows, you might just fall in love with bachata too! 
 Want more of Michela, check out her Instagram here