Vivaz Blog
Being your best on the dance floor starts with the right fitting dance shoes | We take you through all you need to know.
Jun 12, 2020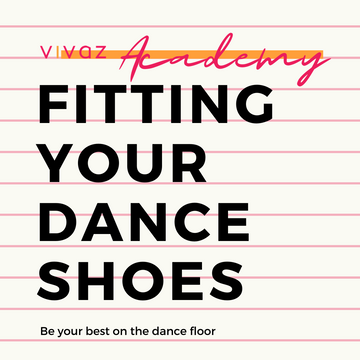 It's Amber, Designer and Director at Vivaz Dance Australia. Here to give you some more valuable info from my many years of experience in designing, fitting and selling dance shoes to dancers all over the world.
Today we are going to talk about FIT, WHY? I hear you ask... "I've been wearing shoes my entire life, how are dance shoes any different to normal shoes?" 
Well to start with if your dance shoes don't fit properly you are not going to be comfortable and if you are not comfortable in your dance shoes then you are not going to enjoy dancing. Believe me, I've been there!
So, here are some of our tips to getting that perfect fit for your dance shoes and looking like you feel as though you are dancing on a cloud.
Just a tip: Vivaz offers FREE shipping over $50 and FREE Returns to all our Australian customers, so why not choose a few pairs - keep what you love and return what you don't?
Click here for our shipping policy and here for our returns policy.
 LET'S TALK ABOUT FIT BEY-BY 🎶 
At Vivaz Dance we have made choosing the right size for your dance shoes SUPER easy. Basically, we use standard US sizing for most of our range and for the other styles in the range we use standard EU sizing.

US Sizing: You can go with your usual US/AUS shoe size.
If you like them firm:

 

go down half a size
If you are an advanced dancer and you like your dance shoes really firm: go down one whole size
* Note: we do not recommend going down more than half a size for a closed toe shoe and for some closed toe shoes you may even want to size up. However, there is more detailed information about the fit of each style on its product page, please have a read through before choosing your size. 

EU Sizing: As above, go with your usual EU size or if you like them firmer, go down a size.
* Note: EU sized styles don't come in half sizes.
 OOOOHHHH... YOUR NEW BABIES HAVE ARRIVED 
When you receive your shoes in the mail, here are three things that you need to look for when trying on your shoes:
Can you walk in your shoes? Ok, this might sound pretty obvious but if you can't walk in your dance shoes, well then, you can't dance in your dance shoes! So put those babies on and take a little walk around (inside your house on carpeted floors) and find out if they are truly fitting well and feeling comfortable. 
Do your shoes fit snug? By this we mean that the foot is staying in one place and not moving around. There may be some movement around the straps which is easily fixed with our adjustable strapping system or with the shoe laces if it is a lace up style.
What happens when you point your toes? There should be little to no room at the front of the shoe  * Note: this step is for an open toed shoe style
Watch our quick tutorial on how to fit your shoes.
And now remember, don't-get-it-twisted! A well fitted dance shoe should be firm, not painful!
Thanks for reading our guide on how to fit your dance shoes, I hope its been helpful!
Please feel free to reply back to this email or email me directly here at vivaz@vivazdance.com.au with any questions and I will happily get back to you.