Vivaz Blog
Latin Dance: A Passionate Journey with Pedro and Tiffany
Aug 02, 2023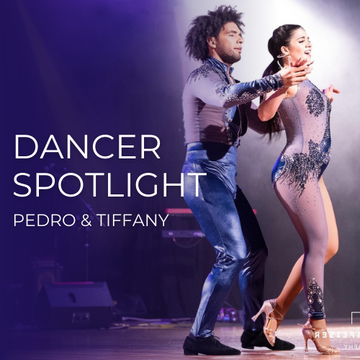 INTRODUCING PEDRO AND TIFFANY
Welcome to an exclusive interview with Pedro and Tiffany, a remarkable dance couple who share their journey in the world of Latin dance. Hailing from Venezuela, they exude a passion for dance that runs deep in their veins.
From Salsa to Merengue and Reggaeton, their love for Latin music and movement has shaped their lives in a beautiful way. In this interview, Pedro and Tiffany share their experiences, memorable moments, and the role Vivaz Dance Shoes played in enhancing their performances.
Join us as we delve into the vibrant world of Latin dance and discover the essence of their captivating journey.
THE INTERVIEW
Can you tell us a bit about yourself and how you got started in Latin dance?
As you know we are both Latinos. Venezuelan born and raised. We grew up with the music, the passion and the simple love for moving our bodies to music. Mostly Salsa, Merengue, Reggaeton.
We got in touch with proper dance classes thanks to cuban salsa, which had an interesting boom at the time. It was a simple transition. What is not to like, gathering with people you love to learn how to dance to the music that goes through your veins.
I started when I was 20 years old and Tiffany started when she was 13 years old in different places and different times.    
What do you love most about Latin dancing, and what motivates you to continue dancing? 
These days we are super proud of our school Cortes Dance because it is a place full of care for the culture and the people. We love the community and the beautiful connections that are created through dancing. Especially latin dancing that is so close to our hearts. Every day I get to share a bit of our families that we missed so much.
It is very encouraging that people that come to our classes are capable of filling themself with the beautiful colourful light of latin culture and go home and to work the next day ready to enjoy life a bit more than they did yesterday.
Tiffany Wearing: Paris Dance Shoes
Pedro Wearing: Alonso Dance Shoes
How do you think Latin dance allows you to express your personality and emotions?
Let's explore dancing the verb. Whether in class or performing, when you are dancing you are in expressing mode, you are in the place that allows you to connect to the present moment. It is a way to remember that life is about enjoying yourself.
The shoes should not only allow you to be present but should enhance your enjoyment or connection with your experience. I believe Vivaz dance shoes do that for you.
Could you share any memorable moments or achievements you've had as a Latin dancer?
Honestly the moments are endless. From most of the shows and festivals that we have been part of to our classes at Cortés Dance. Some of my most exciting moments have happened while wearing Vivaz dance shoes.
I think Salsa the Show in 2022 is one of the most beautiful productions we have been part of, and of course the shoes that we were wearing, not only in the shows but in all the rehearsals were Vivaz dance shoes.
As someone who wears Vivaz Dance shoes, what sets them apart from other dance shoe brands and  how do they enhance your performance?
I will say the first thing will be the quality, of course they are beautiful as well as comfortable. Vivaz dance shoes will give you better support and comfort for longer.
Tiffany Wearing: Paris and Kira Dance Shoes
Pedro Wearing: Ace and Spence Dance Shoes 
Do you have a favourite style from Vivaz Dance Shoes and what makes them your go-to choice?

Pedro - "Ace: Classic look, but again they are elegant and Durable. I like that combination."
Tiffany - "Paris: They are gorgeous and stable."
How do you maintain and care for your Vivaz Dance shoes to ensure their longevity and optimal performance?
We are teachers and performers. So we use dance shoes for at least 4 hours everyday. Of course basic maintenance is important like keeping them in a place that does not deform them, I will say that is the most important.  
Are there any upcoming events or performances that you're excited about, can you tell us more about them?
We are looking forward to going to Adelaide Sensual Weekend at the end of July, We will bring our new bachata show. Yasss! 
How do you prepare for a big dance event or competition, are there any specific rituals or practices you follow?
Honestly, Pedro trains the whole year to be in good shape and ready for anything. I like the pleasure of working really hard to get ready for what we do.
Lately we have found a nice balance in our training, preparing yourself in advance with the right amount of training. We prioritise our routines and decrease the load of everything around, Gym, the school. We try to plan an easy week for days after the big event.
Honestly, now we are smarter and more confident than in the past It is not about showing to anyone we are the best, It is about showing who we are. We love what we do and we try to show that in our performances. Now we trust each other and ourselves a bit more.
What advice do you have for aspiring Latin dancers who want to improve their skills and make a name for themselves in the dance community?
Consistency and patience is vital. But open your eyes to find where your art connects with what the audience  wants. Then train and surround yourself with coaches, students and friends that will love for you to achieve your goals.
Can you share a challenging moment you've faced in your dance journey and how you overcame it?
In February this year we received our Australian Permanent Residency. We are both from Venezuela, a beautiful country with the most amazing people. Yet not the best politicians and economy.
After trying different ventures and options, the way towards staying in this country was through applying for a Distinguished Talent Visa as Dancers. This path meant working towards becoming a world class latin dancer. It is hard to explain how much work we both did. It was possible first because we work really hard, dancing and training with some of the best and by surrounding ourselves with amazing loving people and distancing ourselves from bullies and frenemies.
We are very proud that we now really call Australia home. A place to prosper and to share our knowledge and culture.
CONCLUSION
Pedro and Tiffany's dance journey is a testament to the power of passion, hard work, and the desire to share their Latin culture with the world. From their humble beginnings to becoming world-class Latin dancers, they have overcome challenges with determination and surrounded themselves with a supportive community.
Vivaz Dance Shoes has been an integral part of their success, providing the comfort, durability, and elegance needed to excel in their performances. As they look forward to exciting events and shows, we can't help but be inspired by their dedication and love for the art of dance.
For aspiring Latin dancers, their advice to remain consistent, patient, and attuned to the audience's desires holds the key to success. Pedro and Tiffany's journey reflects the beauty of dance as a medium to express emotions, connect with others, and celebrate the richness of culture.
We wish them continued success and look forward to witnessing more of their mesmerising performances in the future.