Vivaz Blog
Level-Up Your Manicure with Press-on Nails
Dec 13, 2021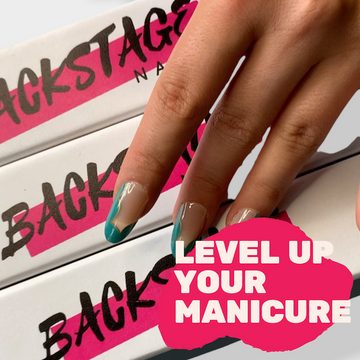 If you're looking for a reason to skip the harsh chemicals and inconvenient process of sitting in the nail salon chair for hours–this is it.
Press-on nails are not only easy to use, but are an effortless way of showing off your style. Seriously, if you've never tried them, allow us to introduce you to all the ways they will change your beauty routine forever...
1. Easy to use
What's in a name? In this case, everything. With press-on nails, your manicure has never been easier. 
Gone are the days of dipping your fingers in acrylic or wrapping them in gel. (And don't even get us started on waiting for the polish to dry…)
Press-on nails come pre-painted and ready to, well, press on. You can use either glue or stickers (both are included in your kit because we love #options) to stick your nails into place and voilá–your manicure is complete. 
TIP: If you're pressed for time, the stickers can help you get your nails looking right, right now. Plus, since the stickers are easy to peel off, you can easily peel off your nail and store it back in the box to use on a later date.
If you've got the time on your hands and want your manicure to hold-up for the longhaul, the easy-to-use glue will help you secure them into place so they stay put for longer. 
2. Guaranteed to fit
At Vivaz, we know the importance of finding the right fit. Just like our dance shoes, our collection of press-on nails are designed to ensure your nails fit tight and precise. 
Each kit includes a total of 12 nails. That means all ten fingers are covered, and every sized nail bed is accomdated. The ones you don't end up using? Keep them stored in the velvet-lined cushioned storage box for safe-keeping (or in case of emergency).
3. Nail art for every mood or style
Press-on nails offer affordability and ease, and they don't skimp on style. 
Our collection of press-on nails covers a range of colors, nail art, and bling so your manicure can always match your mood.
Looking to send shockwaves? Flash comes in a dual-tone electric blue with two different styles of blinged-out accent nails. It is also the perfect match to our Skylar latin dance shoe. 
Looking for something a little more subdued? Sicily might be your style. This nail set's pinkish-amber hue is sure to take you from night to day or work to play. It also features one set of diamonte-accented nails, so you have the freedom to add a little extra sparkle if (like us) you're into that sort of thing.
Also featured are our gemstone inspired press-on nail sets, including Ruby, Jade, and Diamond. Try one or try them all, and don't be afraid to mix and match! Play with pattern clashes and colorful accents to create the ultimate statement manicure.
Tips for getting the most out of your press-on nails:
All of these press-on nails come with a full how-to guide and necessary tools to get you a salon-quality manicure for a fraction of the time and cost. They're all super easy to use, but keeping these tips in mind can help you get the most out of your press-on nails. 
Don't file your natural nails all the way down!
They don't need to be super long, but having your real nails as a base can help secure your press-on nails. 
Think of press-on nails as dressing-up your real nails. In everyday life, our nails do get some action. No matter how hard you try not to, you'll still probably find yourself using your nails as a tool at some stage in your day. Having the real deal behind the scenes gives press-on nails some reinforcement to stay strong.
Press up your cuticles before you press-on your nails, be sure to use the included cuticle stick to push back your cuticles. This will help you cover your full nail with the press-ons, so you can avoid looking like you need a fill too soon.
Always be sure your nails are clean and dry
The very first step should be to remove any nail polish that's on your nails–clear polish included! You want a clean slate to apply your
press-on nails
. It's also best practice to give your bare nails a good wipe with rubbing alcohol to remove any natural oils your fingers might leave behind.