Vivaz Blog
Salsa Dance Classes in Sydney at Latin Junction
May 31, 2023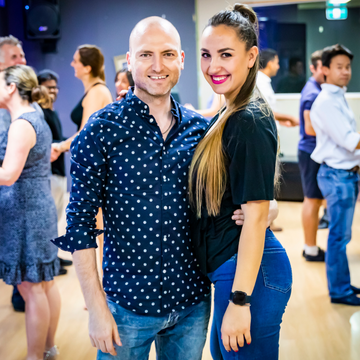 Introduction:
Are you looking to spice up your social life and discover a vibrant world of dance? Or are you looking to improve your craft and become a better salsa dancer? Salsa dance classes offer a fantastic opportunity to immerse yourself in the rhythmic beats of Latin music while learning a fun and energetic dance style. In this blog post, we will explore the exciting world of salsa dance classes in Sydney, with a particular focus on Latin Junction, the premier dance studio that offers top-notch salsa studio located in Rosebery, Sydney and Bondi Junction.
Salsa Dance Classes: A Gateway to Passionate Movement:
Salsa is an invigorating partner dance that originated in the Caribbean and gained popularity worldwide. This lively dance style seamlessly blends elements of Afro-Cuban and Latin rhythms, creating an irresistible fusion of footwork, spins, and body movement. Attending salsa dance classes not only provides an enjoyable way to stay fit but also allows you to connect with others in a vibrant and social environment.
Discover Latin Junction Dance Classes in Sydney:
When it comes to salsa dance classes in Sydney, one name stands out above the rest: Latin Junction. Latin Junction is a renowned dance studio that has been at the forefront of the Latin dance scene in Sydney for years. They offer a wide range of dance classes, with salsa being one of their specialties.
At Latin Junction, you'll find expert instructors who are passionate about sharing their love for salsa. Whether you're a complete beginner or an experienced dancer looking to refine your skills, Latin Junction has classes suitable for all levels. Their experienced instructors break down the steps, making it easy for beginners to pick up the basics while challenging more advanced dancers to expand their repertoire.
Why Choose Latin Junction for Salsa Dance Classes in Sydney?
Expert Instructors: Latin Junction boasts a team of highly skilled instructors who are dedicated to providing quality instruction in a friendly and supportive environment. They have extensive experience in teaching salsa and other Latin dance styles, ensuring that you receive the best guidance possible.

Diverse Class Options: Latin Junction offers a variety of salsa dance classes to cater to different skill levels and interests. From beginners' courses to intermediate and advanced workshops, there's a class to suit everyone's needs. They also organize social events and practice sessions, allowing you to immerse yourself in the salsa community.

Welcoming and Inclusive Atmosphere: Latin Junction prides itself on fostering a welcoming and inclusive atmosphere where dancers of all backgrounds and abilities feel comfortable. Whether you're dancing for fun, fitness, or personal growth, you'll find a supportive community at Latin Junction.

Convenient Locations: Latin Junction has multiple locations across Sydney, making it easy to find a salsa dance class near you. Their studios are well-equipped and provide the perfect setting for an exciting and enjoyable dance experience.
Conclusion:
If you're ready to add some spice to your life Latin Junction offers exceptional salsa classes ensuring that you receive the highest quality dance lessons in a fun and welcoming environment. With their expert instructors, diverse class options, and convenient locations, Latin Junction is the go-to destination for salsa enthusiasts in Sydney.
Take the first step towards a passionate dance journey by joining Latin Junction's salsa dance classes in Sydney. To learn more about Latin Junction and explore their class schedules, visit their website at www.latinjunction.com.au. Unleash your rhythm and let the magic of salsa sweep you off your feet!