Vivaz Blog
Attn: Dancers! The Blow Out Brush You Need In Your Life.
Dec 13, 2021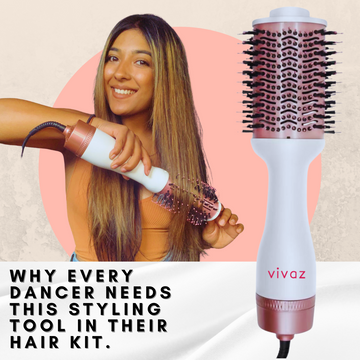 Step away from the hot tools, babe. We've officially created the holy grail of hair tools to achieve the perfect blowout at home, in 15 minutes or less. 
Blowouts are notoriously difficult to achieve on your own. Juggling a blow dryer, a round brush, and touching up with a flat iron is a process that we sometimes just don't have the time or energy for. 
Of course, you can always go to the salon, but spending anywhere from $50-$100 for just a few days worth of sleek, silky hair can become a steep commitment.
If you value time, money, and style, then your solution has arrived at Vivaz. Our exclusive, limited edition blowout brush is the key to salon-level results without the wait time, the booking, or the cost. 
If it sounds too good to be true, let us introduce you to the best blowout brush you've ever met, and why it is the last hair tool you're ever going to need.
Salon-level Power
There's some sort of magic in how stylists perfect blowouts every single time, while we still struggle at home to recreate it. This blowout brush has the answer. The professional-level 1200 watts delivers the same smooth, silky look you get when you sit in a salon chair, but you can achieve it in the comfort of your own home. 
Speaking of comfort…
One thing we love about this brush is that the cord swivels with you. If you're not getting tangled up in the process, you can complete the look without any snags.
The blowout brush is also super lightweight, not like those bulky and heavy blow dryers that give you a workout before your day even begins. Not only that, but the handle is ergonomically designed, helping you avoid uncomfortable cramps when you're half-way through your hair. 
Wet or dry styling
Having the freedom to style your hair whether you're fresh out of the shower or want to have an impromptu blowout is one of our favourite details about this blowout brush. The secret is in the heat settings. 
Three heat settings include cold, high and low heat. Wet hair will dry and style quickly, but even if you only need a touch up or a second-day style, you can easily set it to low and blow.
Two types of bristles to tame and defrizz
Picking the right brush for a blowout can be a hassle in itself, but not with our salon blowout brush. The round oval head features two types of bristles–one to detangle, one to smooth. This double duty promises a look that's smooth, silky, and free from frizz.
Perfect, Protected Hair is Easy As
Above all, we love that this brush is so easy to use, but still gives your hair all the TLC it needs. From the comfort grip handle to the professional-quality power, you really can set, style, and touch up your hair in a breeze.
Vivaz will ship the limited edition
blow out brush australia and
world
wide – but make sure you
order soon
! Only a limited quantity available!