Vivaz Blog
Vivaz donated $1 for every pair of shoes sold to Sheena Barnes in support of her journey to beat breast cancer
Aug 08, 2019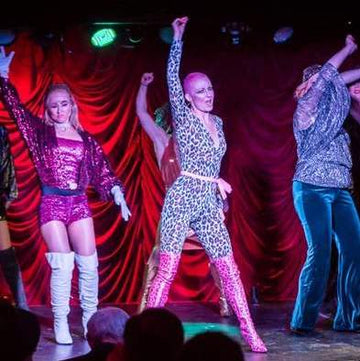 #vivazgivesback
Here at Vivaz we love to find a way to help out a little when we can, that's why, when we saw an opportunity to help out a sister in need Sheena Barnes owner  of Sydney Vintage Dance Studio we jumped at the chance.

In January 2019 dancer and studio owner of Sydney Vintage Dance Studio, Sheena Miss Demeanour (Sheena Barnes) was diagnosed with breast cancer.

Sheena was diagnosed with a category of breast cancer called HER2 which is unfortunately an aggressive form of breast cancer, however scientists have now got two targeted drugs that are intravenously injected to patients with this cancer along with chemotherapy to help save their lives and to prevent cancer recurrence.
Breast Cancer comes with many unexpected expenses and many treatments contrary to what the general public might think, are not completely free or available on the Pharmaceutical Benefits Scheme (PBS) under Medicare. Sheena has just finished six months of chemotherapy and throughout it all has battled through continuing to instruct at her studio, much to the surprise of her medical team and students. 

The two targeted therapy drugs Sheena is taking are Herceptin and Perjeta. Unfortunately Perjeta is yet to become available on the PBS and is a revolutionary drug that assists in blocking the proteins the tumour feeds off that makes the cancer cells proliferate. Sheena wanted to do everything she could to ensure she got access to the medicine she could to beat this insidious disease and has been crowdfunding to raise the $16,000 required to fund six cycles of Perjeta.

Sheena is a dedicated dance instructor, constantly giving to her students even when she is going through the hardest time of her life. Sheena has to have a double mastectomy at the end of July and will have to take at least six weeks off teaching whilst her instructors float the boat of the growing studio that Sheena only just started up in October last year (2018).

Sheena's studio in Marrickville offers instruction for adults in burlesque, feather fan dance, 60s Gogo, 70s Disco, 80s retro, Flamenco, ballet, theatre jazz and much more.

Vivaz is honoured to support Sheena as a fellow dancer so that she can continue her life path of sharing the joy of dance with her students and continue to perform share her love of dance with the world.

Perjeta has been billed as a miracle drug and the more women that access it the more evidence will grow that the drug is saving lives not just extending lives. Then eventually it will be on the PBS so other women in the future can access it without having to go through the crowdfunding processes.

Vivaz Dance donated $1 for every pair of shoes sold at the mid year biannual (Vivaz Warehouse Sale) and we hope that this has provided some support to Sheena in her journey to beat her illness.
https://www.sydneyvintagedance.com/
https://www.facebook.com/sheenamissdemeanour