Vivaz Blog
Your guide to the perfect heel height | And why it matters so much!
Jun 12, 2020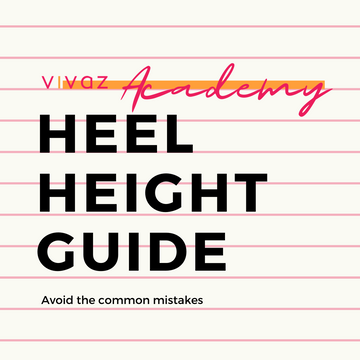 It's me again, Amber Ben, Director & Designer here at Vivaz Dance.
Today I'm coming at you with some really solid advice about how to tackle that dilemma of choosing the heel height of your first pair of dance shoes 🙃. There are a few things that are pretty important to consider - let's have a look:
Your general comfort level in heels
Now girls this one is BIG, if you aren't comfortable tottering around the back yard in anything higher than a 2.5" then you certainly aint going to be Susie Q'ing around the social dance floor in your 3.5" stilettos! Listen to your body, listen to your feet and just start with something within your comfort level for your first pair of dance shoes.
So you want to aim high?
Ok, so current status, killing that 2.5"...but really want to get up to a 3.5" stiletto eventually? Perfect, here's my advice, have your 2.5"'s handy at all times but also grab yourself a pair of 3" flared and take them with you to class and socials.
Start with your higher pair and when your feet get tired, rather then calling it a night switch over to your lower pair, that way you're getting practice in with the higher heels until you're ready to rinse and repeat with the next height up...the 3.5's!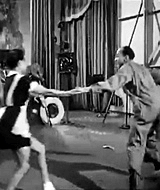 Style of dance
Different styles of dance do have specific heel heights and styles that work best for that particular style of dance. For example, west coast swing, rock 'n' roll and similar genres require a lower heel such as a 1.6" or 2" max, cuban heel is usually best done in a 2-2.5". Kizomba and tango style dancers enjoy a higher stiletto style heel. So once you have taken into account your own comfort levels and any injuries that may prevent you from going too high, have a look around the class or the socials to see what the other girls are wearing or check in with your teacher for some tailored advice to suit your needs. 
And then there is shape...
Not just height that we need to consider, but shape too??
Thats right, dance heels come in a variety of heel shapes such as flared, slim, straight, stiletto and cuban. Below you will see a variety of heel types / sizes and shapes so you can get an idea of the difference.
A cuban heel offers the most surface area at the base of the heel and therefore is the most comfortable option for those who are less comfortable in heels or those that need to dance for many hours a day such as teacher or anyone with ankle or feet injuries.

From the slimmer heel range, a flared heel offers slightly more support than the other options as they have more surface area at the bottom of the heel, then you have a straight heel, and then stiletto.
So there you have it, everything you need to know about choosing your dance shoes heel height, if you have any more questions, feel free to email me.
 Amber at vivaz@vivazdance.com.au and I'll get back to you as soon as I can.