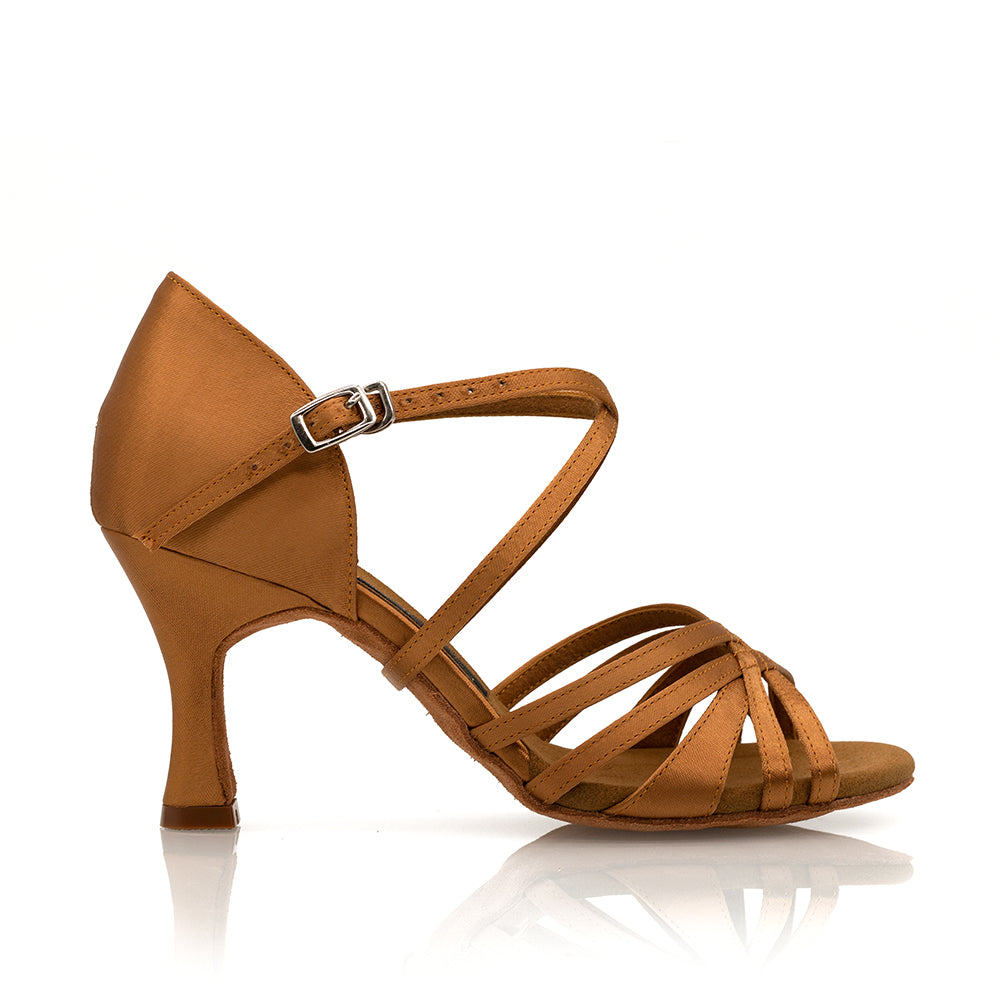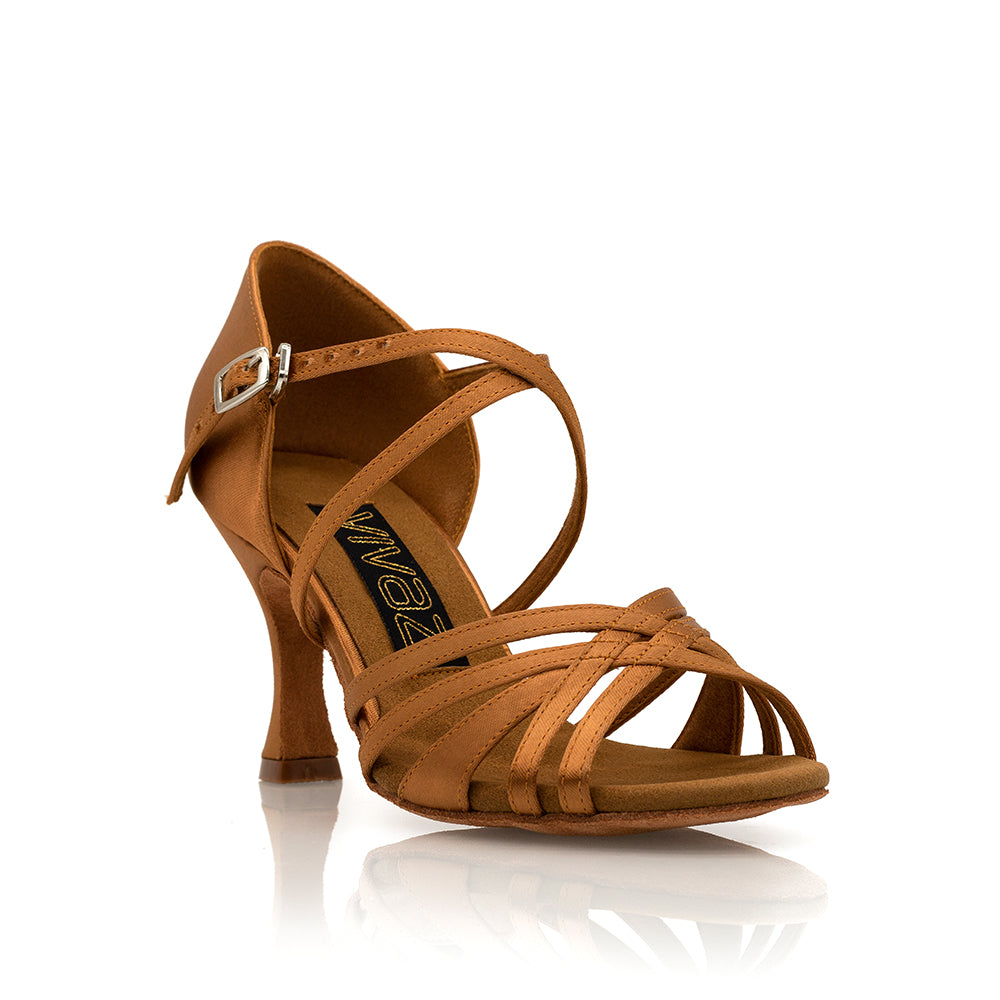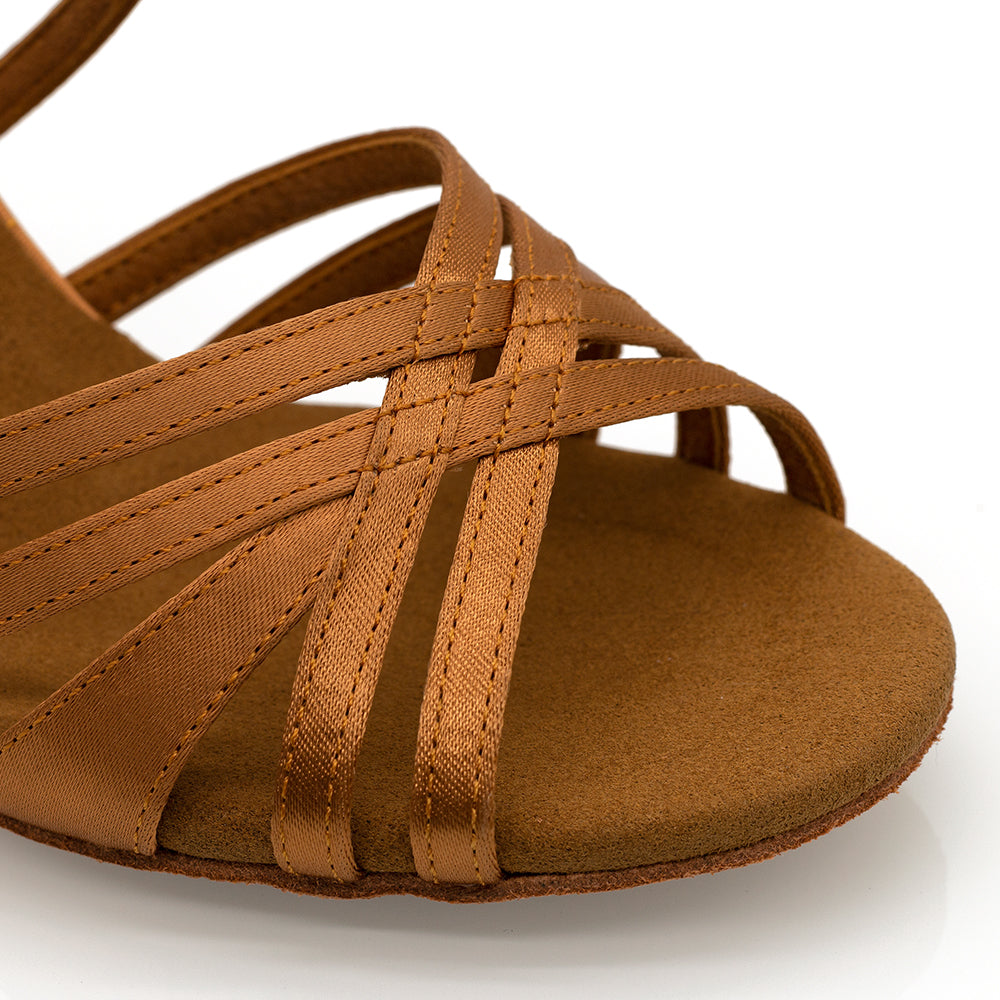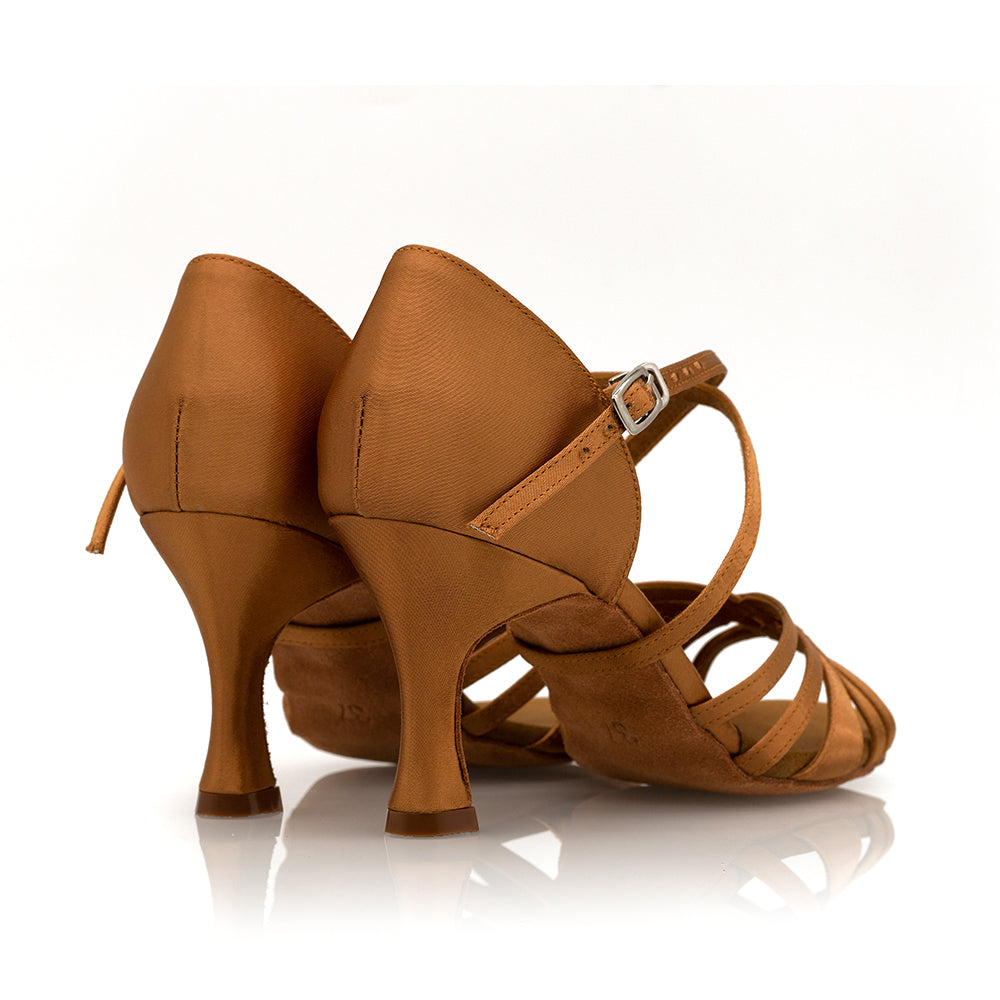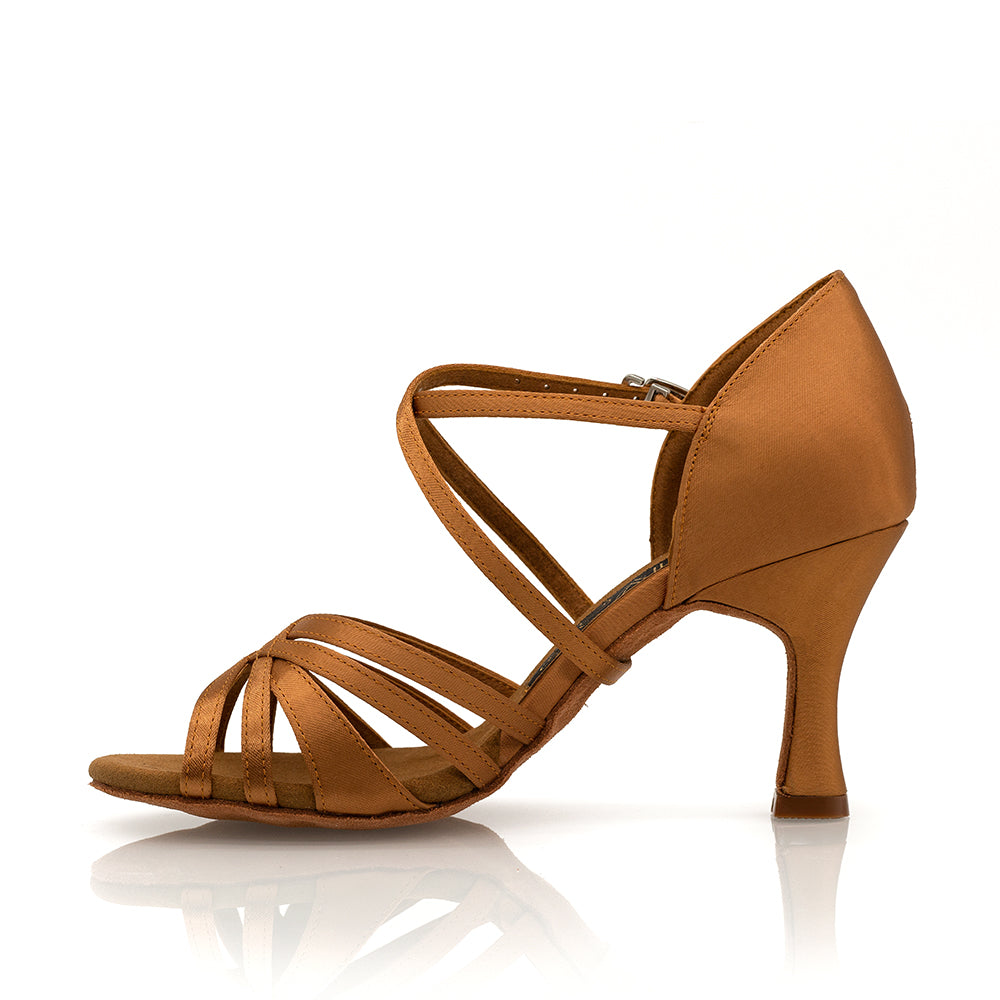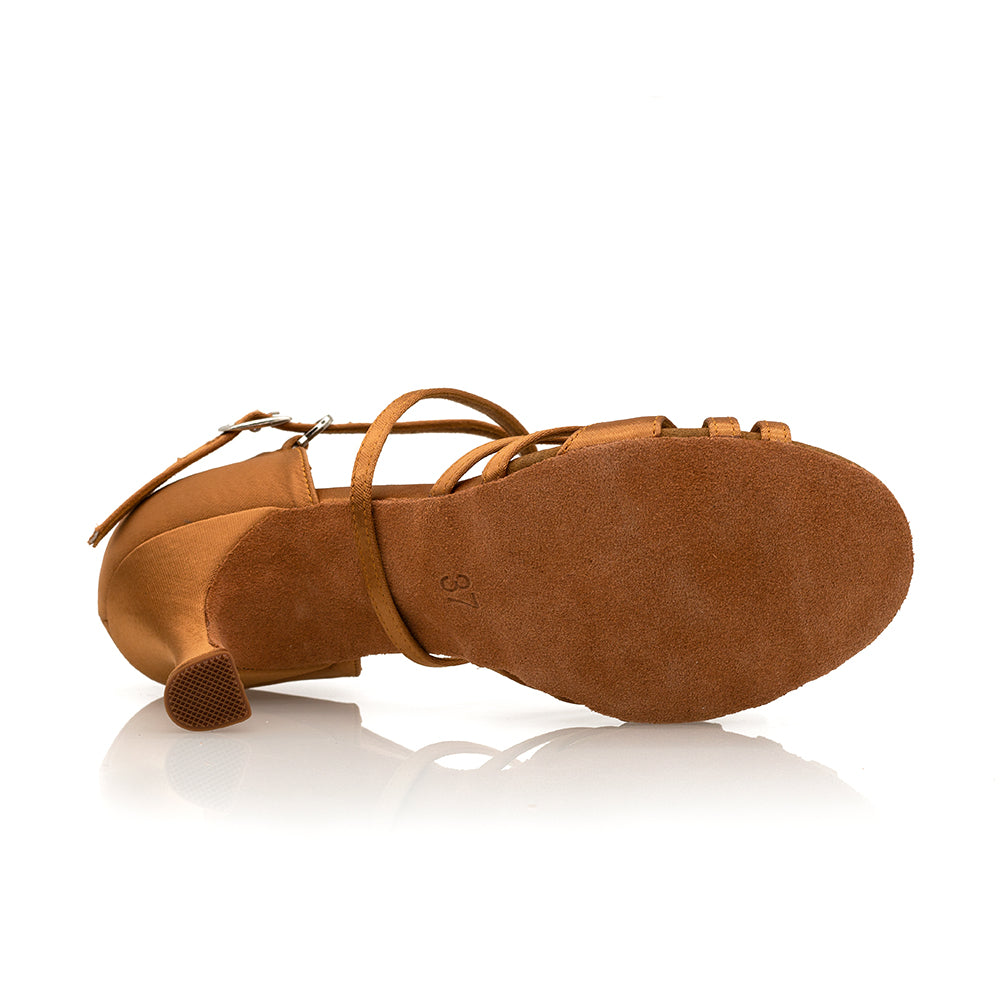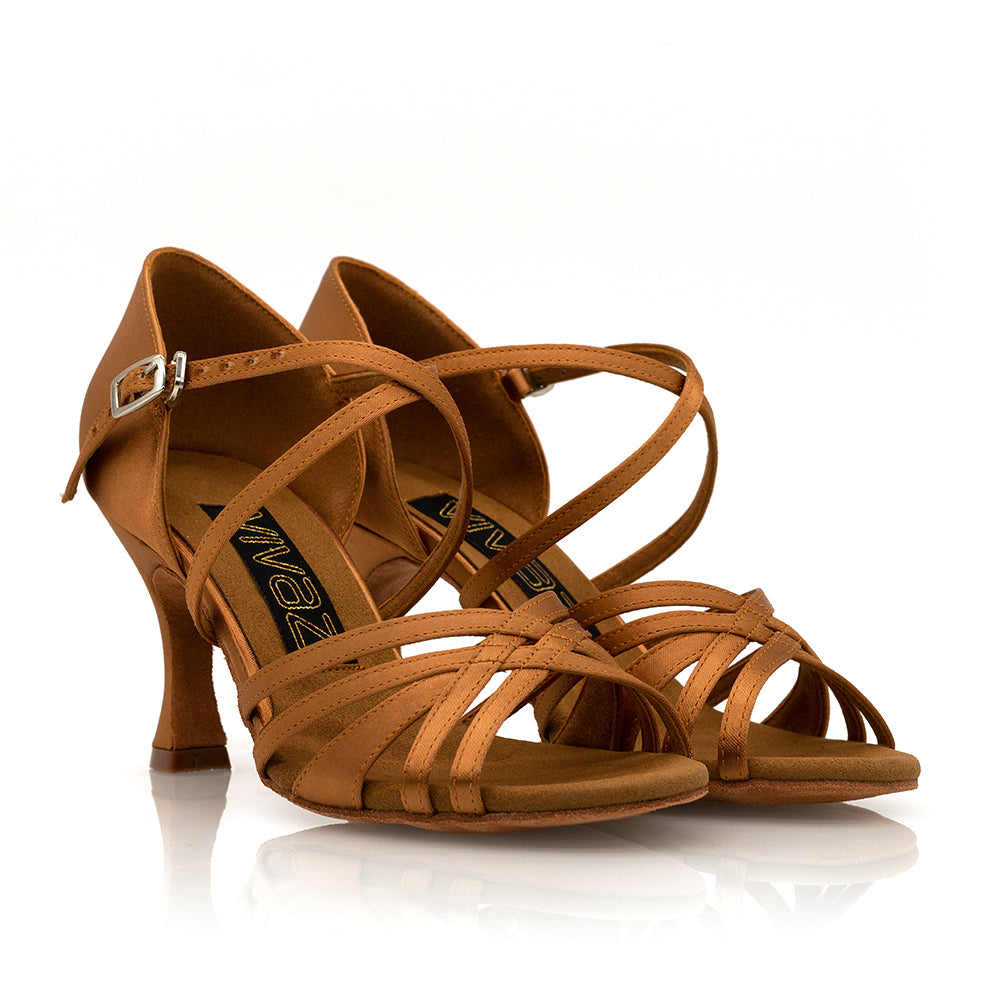 [Kira] Tan Satin 3" Women's Latin & Ballroom Dance Shoes
Regular price
$109.00 USD
Sale price
$109.00 USD
Regular price
$109.00 USD
Tax included.
Designed with classic simplicity and superior comfort top of mind. A supportive and elegant open toe cage and interchangeable straps that can be worn under the arch or around the ankle providing unrivalled support.
Shoe Style: Open Toe
Outer Material: Satin
Inner-Sole: Moisture Wicking Microfibre w/ Soft Gel Cushioning
Outer-Sole: Indoor Suede Sole
Heel Height: 3" Flared Heel
Colour: Tan
Dance Style: Latin Dance
Elevate your dance performance with our Kira Dance Shoes, featuring an elegant 3" flared heel, a design that combines style with superior comfort. For those seeking a bit more height, a 3.75" option is also at your disposal.
Crafted with the most exquisite Toast Tan Satin - a performance-grade outer material with a captivating allure - Kira is more than just a shoe; it's a statement of grace and elegance. Its interior is lined with luxurious microfiber, creating a gentle cushion for your feet.
The shoe's sole is made from high-quality suede, making it a perfect fit for Latin dance styles like salsa, bachata, and rumba, while equally suitable for ballroom, kizomba, tango, and other dance genres favouring a suede sole.
One of Kira's standout features is the interchangeable strap system. You can wear the strap under the arch or wrap it around the ankle, adjusting it to suit your preference and ensuring the perfect fit.
For added comfort, Kira comes with a built-in gel-cushioned insole. This ensures a comfortable dance experience, no matter how long you stay on the dance floor.
Kira is a favourite amongst beginner and advanced dancers who love its classic elegance and unparalleled comfort. Its mid-level heel design is ideal for dancers with some experience with heels or those aiming to transition to a higher heel level.
Our shoes follow European sizing standards and are true to size, designed to provide a firm and snug fit - just the way dance shoes should be! If you prefer an extra-tight fit, consider ordering your usual shoe size or one size down.
At Vivaz Dance, we want to ensure you find the perfect fit. Our trained fit specialists are ready to help if you need any assistance. You can reach out to them via the chatbox located at the bottom right of your screen, call us at 02 8378 6697, or even drop us an email at support@vivazdance.com.au. We're always happy to assist you in finding the dance shoe that dances to your tune!
At Vivaz Dance, we design and deliver beautiful, high-quality dance shoes. Want to know why dancers worldwide keep coming back, again and again, to shop with Vivaz Dance? 
Our Designs are brought to you by a team of talented designers dedicated to bringing you dance shoes that are beautiful, functional, comfortable and, of course, durable.
The shoes are then wear-tested by dancers for an extended period before bringing them to you here at Vivaz Dance.
Our Quality - We value high-quality materials and craftsmanship on all of our products. We have a rigorous quality control program that ensures that all orders sent out are of the highest standard.
Our Customer Service - Other than our phenomenal dance shoes, ask any one of our customers. You will hear the same story "amazing customer service", "highly customer-focused" "quick shipping", "prompt replies," and more. We make it our ABSOLUTE MISSION to put a smile on the face of every one of our customers, and this will always be the case.
Our Brand - Vivaz Dance is based in Sydney, Australia. We have been operating for twenty years and in that time have supplied thousands of amazing dancers around the world with dance shoes, dancers who keep coming back to Vivaz again and again. 
Australia
Orders shipped within Australia follow the below sending timeline (from the day of dispatch). Please note that this does not include handling time, handling time is 1-2 business days from date of order.
FREE Standard Shipping for orders over $100 AUD
Standard Shipping (3-7 business days) $10.95 AUD
Express Shipping (1-3 business days) $14.95 AUD
New Zealand
For our NZ Customers we offer express shipping options. Please note that this does not include handling time, handling time is 1-2 business days from date of order.
FREE DHL

 

(5-7

 business days) 

shipping for orders over $117 NZD
FREE EXPRESS

 

(2-7 business days) 

shipping for orders over $305 NZD
Europe, UK, USA, Asia and the rest of the world
We ship all over the world, shipping costs will apply for international orders and will be added at checkout.    Please note that this does not include handling time, handling time is 1-2 business days from date of order.
FREE EXPRESS Shipping for orders over (7-14 business days) $180 USD
FREE STANDARD

 

 

 

(7-

27

 business days) 

shipping for orders over $99 USD
Flat Rate Standard Shipping (7-27 business days) $12 USD
Flat Rate Express Shipping (7-14 business days) $20 USD
DHL Global Express Shipping 

 

 

(2-7 Business days) 

$33 USD
** Please note that Vivaz Dance does not take responsibility for any customs, duties or taxes that may be requested by the receiving country upon arrival or collection**
Dispatch
Orders are shipped from our Sydney Warehouse within 1-2 business days (excluding public holidays). If an item in your order is on pre-order the item will be shipped within 3 - 6 weeks.
Delivery details will be provided in your confirmation email, as well as tracking information so you can follow the status of your delivery.
If you are not available at your nominated delivery address and the delivery driver deems it unsafe to leave your parcel in a safe spot, the driver will drop your parcel off at the nearest Post Office for pick up. The driver will leave a note in your mailbox to let you know you have missed a delivery and where it can be picked up. Of course, if the delivery driver can locate a safe spot to leave your parcel, they will do so and mark your delivery as "delivered" on the tracking website.
Customs
Items for delivery outside of Australia may have to be cleared through customs.
Some countries charge a duty or tax on imported parcels over a certain value. If your order exceeds this amount, you may be asked to pay a duty fee to receive your order.
Vivaz Dance does not take responsibility for any customs or import fees that may occur once the parcel reaches its destination country, the recipient must cover these changes. Please note Vivaz Dance does not collect or handle any tax charges or fees. If you have any queries regarding tax you may have been charged, please contact your local customs office.
In the event that you decline to pay these fees, your parcel may be destroyed and a replacement or refund cannot be offered.
** Please note that Vivaz Dance does not take responsibility for any customs, duties or taxes that may be requested by the receiving country upon arrival or collection**
DISCLAIMER
While we want to have you dancing in VIVAZ as soon as humanly possible, unfortunately we have no control over what happens once we hand over your parcel to the postal or courier service.
Please be aware that events such as extreme weather, global pandemics, public holidays and staff shortages can impact how fast your delivery will arrive at your door. The above listed shipping estimates cannot be guaranteed by Vivaz Dance or the courier/shipping service at this time.
*Note*
We offer one complimentary return / exchange per order (for shoes over $100, order shipped inside of Australia) If the shoes need to be exchanged a second time, or returned after an exchange has been made, the shipping cost would need to be covered by the customer.
For information on our returns and exchanges, please click

 

here. 
Need help? Shoot us an

 

email. 
Vivaz Dance™ is committed to ensuring your satisfaction. We understand that a comfortably fitted dance shoe enhances your ability to craft your passion. We want to ensure your confidence when you shop with Vivaz Dance™ therefore gaurantee your satisfaction. Enjoy.
Love these shoes!
I have the tan Kira and they are by far the most comfortable dance shoe brand I've tried. They are beautiful and the shoe quality is so good. I would love if they came in black!
Kira Tan Shoes
Absolutely stunning shoes and fit perfectly!! Super comfy and flattering to the feet :)
Practically perfect in every way
I've got a wide foot and the 3" heel didn't accomodate me. So I was hesitant getting the EU36 3.75" heel. It slipped on like Cinderella's glass slipper. I couldn't be more stoked!
Great shoes, great quality
Very durable and comfortable
Love these shoes!! Very comfy 👍